The Fajita Cookoff has celebrated the birthplace of the fajita in many different cities in the Rio Grande Valley of Texas since its inception in 1976. It all started on the square in downtown Edinburg. The event then moved to the banks of the Rio Grande River at Chimney Park in Madero, then to McAllen behind La Plaza Mall for several years. After that it was in Mission, back to Edinburg and then Sharyland Plantation. In 2006 the Fajita Cookoff became one of the major attractions of McAllen's PalmFest Celebration for 10 years.
This year, the cookoff is on the road again. And what better place to celebrate the birthplace of the fajita than the home town of the vaquero,Rio Grande City.
The city management, the tourism department and the Economic Development Council have all joined together to make this the biggest family pachanga ever held in Starr County.
Thousands of people will come out to see Crazy Cooking Teams compete in five cooking categories. Unlike all other cookoffs, all of the cooking categories of The Fajita Cookoff are truly indigenous of Deep South Texas: Pan de Campo (cowboy bread), Frijoles a la Charra (beans), Mojellas (sweetbreads), Traditional Fajita and Gourmet Fajitas.
And, oh yes, there's a Special "Showmanship" Award for the team that has the best decorate Cooking Camp. Prize money and custommade miniature BBQ Pit Trophies are given to the top Fajita Aficionados.
The Fajita Cookoff will also have live entertainment throughout the day, family games and activities and a kiddie carnival with dozens of mechanical rides, inflatables, bouncers and slides. And then, after the cooking competition there will be a big concert for all to enjoy. Plenty of food and beverages will be available. And the best part about the event, it's a totally free event with free parking and free admission.
If you'd like to experience the colorful and vibrant history of Deep South Texas and taste some of the best food in the world, come to The Fajita Cookoff on Oct. 21 at the City Park in Rio Grande City. Visit www.TheFajitaCookoff. com for more information and photos.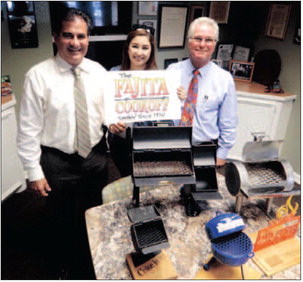 From left, Alberto Perez, Rio Grande City Manager, Sara Hernandez, Tourism Director, Rio Grande City and Christopher Julian, event founder and producer.